Designers enjoy some unique privileges in our society. Designers are paid to care about the human experience when others worry about system performance, targets, budgets. Designers get rewarded for their taste – something we all want, but doesn't necessarily have. And designers have the responsibility of inventing from a blank page, almost everyday.
But one of the best privileges is – seeing ideas coming to life. Seeing raw, fragile ideas grow up and take their place in a new world.
Last few days, I have been reflecting on some product and design ideas I have worked on. Some of them are alive and functioning well. Some others didn't come to life through me, but through someone else, and that too, is heartening.
One story is from 2014, about the logo of the Indian startup Pratilipi.
Pratilipi lets people read and write in Indian languages (now also English), and as the designer, my first challenge was the logo – which would capture the idea of reading, writing, technology and even India.
This was exceptionally hard. I went into many directions thinking about what concept captures these meanings. Would it be good to show books as doors to knowledge? Or should knowledge be shown as a flame? Or there is more than knowledge to it – it's about stories, about connection.
Logos are wickedly challenging – not only because they should answer all these tough questions and carry a lot of meaning, they should also be aesthetically appealing, visually recognizable and distinct – and all of this in the size of an app icon.
(Added difficulty: Everyone has an opinion on a logo (and they should))
After a lot of head-scratching, I was able to narrow down to three ideas and presented it to the Pratilipi Founding team.
The third logo clicked and they adopted it. And that's when it came to life, for real.
(It is the letter 'Pra' in Devnagiri script, and the dot was made to refer to technology, as in 'dot com', but also if you squint at it, it looks like a child reading a book on the floor)
The logo made its way to business cards, pitch deck presentations, T-shirts and office doors, and of course the product – which is used by millions to share stories. Here is that symbol, in the wild: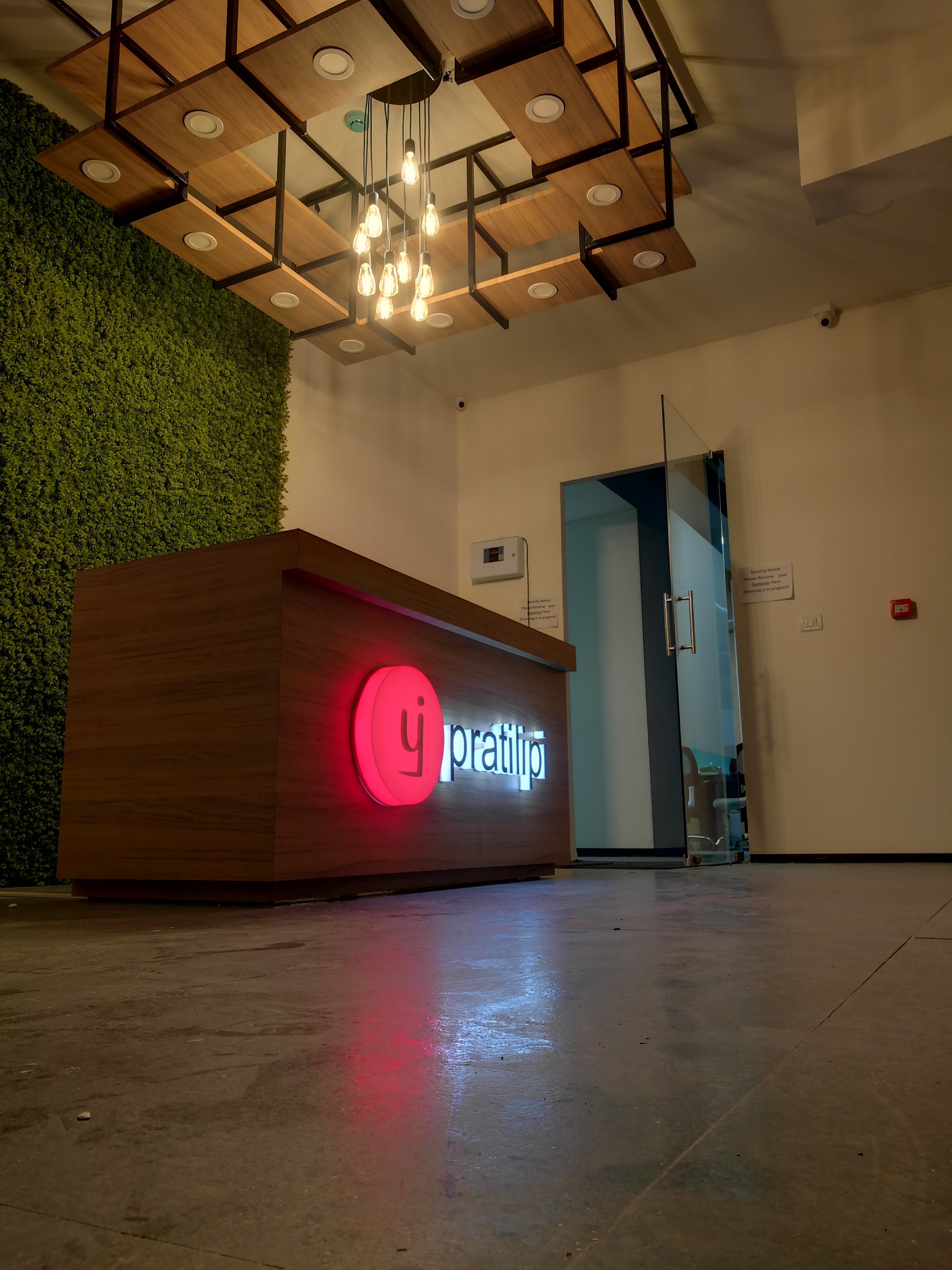 Now, this might seem – mundane. Of course in our consumerist society we see logos everywhere – Nike, Pepsi, Apple, Starbucks. But there is a touch of magic when something you sketch out on a page – becomes real in the outer world. The world is now visibly different, and I drew it. The symbol went from my brain to a page, to software, to millions of devices and finally into the brains of millions of other humans. It came to life.
The next story is about an idea which started as mostly academic for me. But we went deep into it and really explored it, and later I found that it was a real product.
In 2017, I worked with 5 (very) talented designers on a health device to detect strokes. The project was done with Philips and the Delft University of Technology.
Over 6 months, we talked to users and studied what they said in painstaking detail. We created models of their behavior, and finally came up with some product concepts.
We created hypothetical scenarios of interaction with the product.
It was a deep and gratifying project – we experimented with a boatload of ideas – not just ideas for the product but also ideas for user research and analysis. We even made a mock webpage for selling it, with a brand name (ally) and tag-lines.
However, I could not help but feel that the project was only academic, and hence not real. Was all that work… a waste?
But things changed in 2019, when a friend of a friend was looking for funding for his startup. Called Dozee. The product looked familiar:
Investing in a startup brings anxiety – you put your earnings into a highly uncertain venture. The rewards could be great, but so are the risks. Most people would rather choose stocks in 'blue-chip' companies.
But I could develop conviction to invest in the angel round (and I'm happy to note that Dozee team has raised another, venture round by some reputed investment firms), because among other factors, I had understanding of the problem they were tackling. I know people need such a product because I have worked for months on a very similar idea.
I have other stories which follow this same pattern – people think of an idea, sometimes it's just on paper and then through slow investigation, they build deep conviction, and finally something meaningful comes to life.
That's the biggest privilege and reward of working as someone who creates.